Question
I have saved a .m21fm file during a simulation or exported from MIKE+ 2D Overland to a MIKE 21 FM setup in MIKE+ Release 2023 Update 1. When I try to open this in MIKE Zero 2023 the MIKE Zero shell crashes or the file cannot be opened with the error message "Application programmer error Invalid pfsNode".
Why does this happen and how can I overcome this?
Answer
With MIKE+ Release 2023 Update 1 the input file for 2D modelling was 'cleaned up', removing input sections that were no longer used by the model engine. Unfortunately, the MIKE 21 GUI in MIKE Zero Release 2023 still expects the [EQUATION] section for the MIKE ECO Lab module to be present. If this section is missing the GUI will fail reading the setup - this will unluckily lead to a crash of MIKE Zero.
Work-around
In order to open a .m21fm file from a newer editor in MIKE Zero Release 2023, you can add the missing section manually in an ascii editor - see Fig. 1.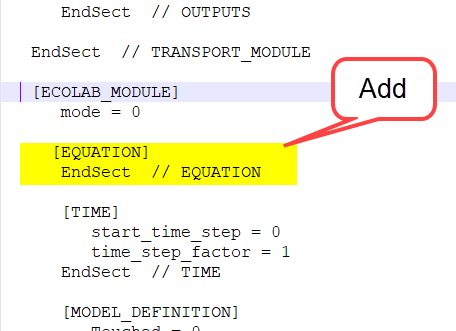 Fig. 1 - Adding [EQUATION] section to [ECOLAB_MODULE] section using ASCII editor

Note: With MIKE Zero Release 2024, the MIKE 21 GUI will be updated to allow you to open .m21fm files created from MIKE+ without problems.